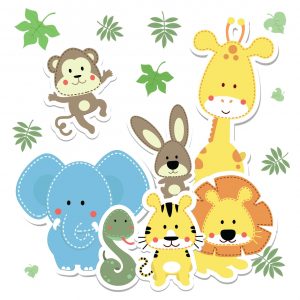 There's a few subjects that can really grab the attention of children, and while it does vary by child, it does tend to be the same ones that commonly crop up time and time again.
There's comic and cartoon characters like in the Batman Finger puppet example, there's the exhilarating infinity of space, and today we're looking at another one, animals!
In particular, we're going to specifically look at baby safari animals in this update.
Here's some great safari related nursery rhyme videos…
An Elephant Walks Like This And That
Sing this simple song about a walking elephant with your child. It's a great choice for simple actions too – but beware, you'll find yourself wandering around the singing the song to yourself after their bedtime!

Walking In The Jungle
Go for a safari of your own and search for a frog, monkey, toucan and a tiger. We're not afraid!